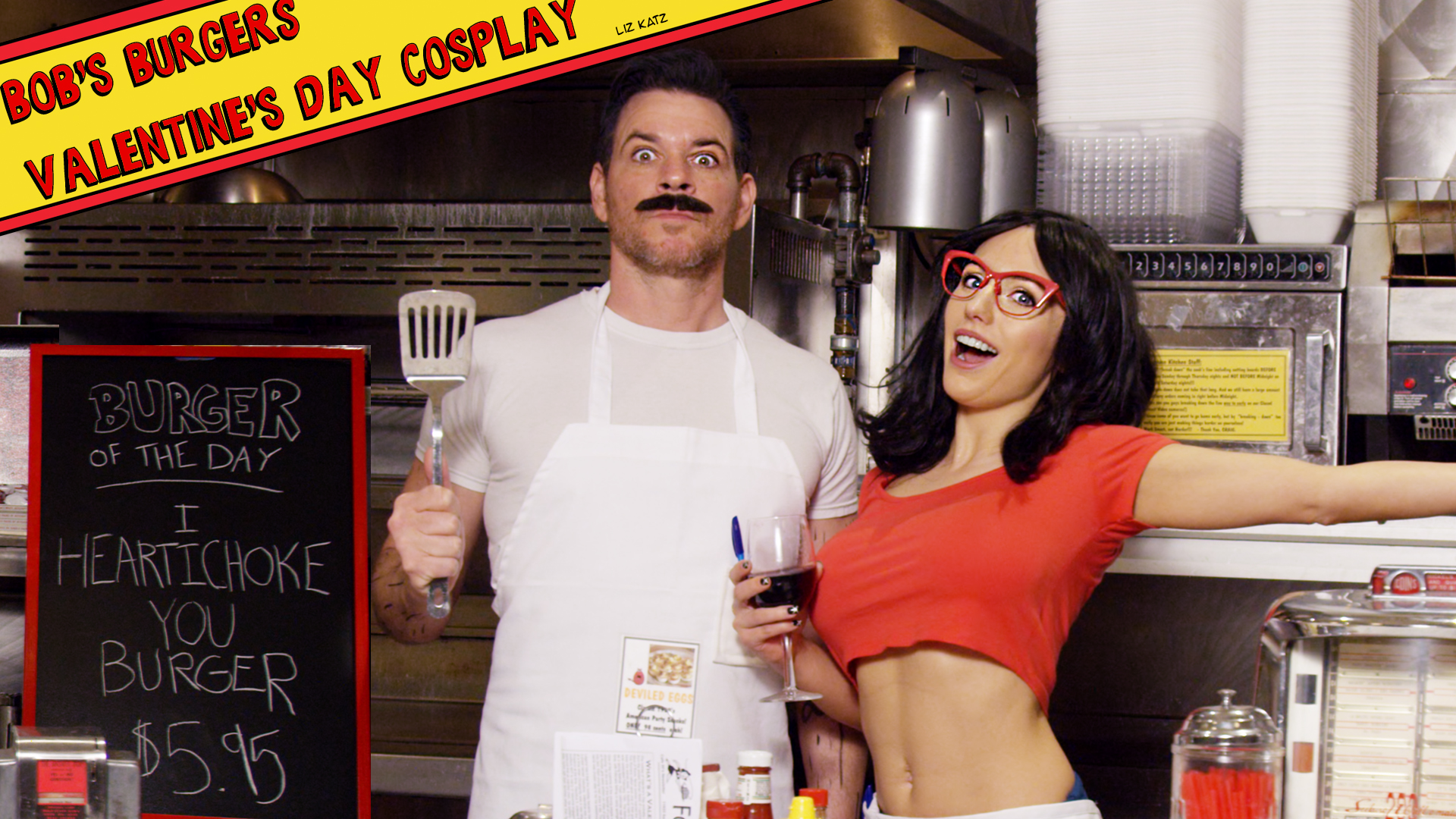 "Alright!" I Heartichoke You – Bob's Burgers Cosplay
Due To The Absurd Amount Of Images from this Shoot This Page May Take Longer than Usual for all the Images to Load.
This year I wanted to celebrate Valentine's Day with a new cosplay shoot!  But Who?  I thought to myself "self, what characters represent everything that is important in a relationship?  What couple can everyone relate to?"  And of course my mind went directly to Bob and Linda Belcher from Bob's Burgers.
This was just one of those fun and easy cosplays!   It was the most fun I've had shooting!    I first did some research into previous cosplays others have done of Bob and Linda (Yes I even made it a few minutes into the "adult movie" parody Bob's Boners… It's hard to watch, but yeah, that exists.  Bob and Linday aren't so great, but Teddy is pretty spot on!)     The #1 thing I noticed with Linda costumes that I wanted to avoid was her shirt color.  It's not a bright vibrant red on the show itself and many seem to just get a bright red shirt and call it a day.  It's a really dingy worn in red-ish color.  This drove me crazy!  Even though I early on made the decision to sex Linda up a bit early on (not like in the porn parody :P)  I just wanted her to look in a way that would keep the majority of my fans interested.  A Long sleeve shirt, pants, and slacks just wouldn't cut it.   So I came up with being trophy wife Linda but I took a while hunting down the right color for the shirt! It was honestly the hardest part of the entire costume.   I got a cheap pair of shorts for her pants, and modified a few aprons for both Linda and Bob.   Bob's apron pocket was actually made from a napkin we stole from a random trip to Red Lobster last week.
Linda's wig from Arda Wigs.  It was a wavy wig but the right cut and length. I straightened the top with a flat iron on low, curled up the bottom with curlers, and used dry shampoo to mask the synthetic hair shine.
Sam got a random faux mustache for Bob at some point on his travels and used spray black to color his hair for the night (it surprisingly didn't make too much of a mess).  We went back and forth on what to do with his arms.  He tried gluing on some faux hair but they just looked like pubes to me.  So we ripped those off and I drew in arm hair based on how it looks on the show using a liquid waterproof eyeliner pen.
For the Burger of The Day prop I just got a cheap chalk board off Amazon.  Sam surprised me by painting it red while I took a much needed nap.  Right before we shot I wrote in the burger of the day info based off Bob's Burger's Valentine's Day episode, My Fuzzy Valentine.
Sam (aka Bob) was  able to track down an awesome restaurant for us to shoot in.  Believe it or not diners/ burger joints with counters are hard to find in Southern California!    They were so nice to let us shoot in there while they were closing and were much more reasonable cost wise than using a shooting location.  (Which I definitely couldn't afford for this one.)   The burger was made at the restaurant and it looked picture perfect!
The last thing to note about out Bob's Burgers cosplay is that the costume and location for these particular characters is only half of the cosplay.  Since these are very animated cartoon characters we needed to both play the parts!  Bob usually looking very unsure, apprehensive, and a bit lost and Linda being the fun, friendly, happy-go-lucky gal she is.   So, yes, even though this is of trophy wife Linda, I had to keep my poses to what I thought would be recognizable as from the show.
This shoot was the best Valentine's day Sam and I have experienced together!  Some ladies may want candies or fancy dinner dates.  I much prefer a couples cosplay and shoot for 2!  Also want to give a big thank you to James for all his help during the shoot!
What do you guys think about our Bob and Trophy Wife Linda Valentine's day shoot?   I'd "LOVE" if you left me a comment about it!   "Tonight I'm going to sleep like a baby… A horny baby.
Want More Katz?

Join the Gritty Kitty Club!
Copyright 2016 Liz Katz | All Rights Reserved |